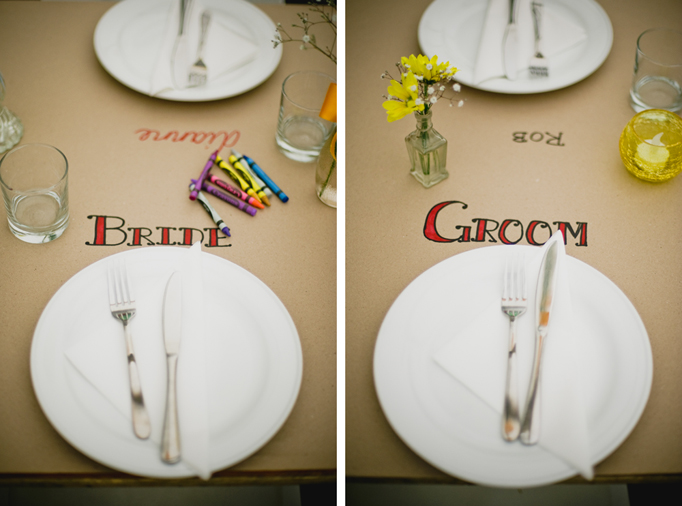 There aren't many South Australian kids who can say they've never spent a weekend up at Woodhouse. Whether it was on a school camp, or with the Scouts of Girl Guides (as was the case for me), most have us have crept through the creaky old halls at night, or had the thrill of running the adventure course through the grounds, or eaten in the great, mess hall style kitchen. This beautiful landmark – situated in the lush, leafy Adelaide hills – was the setting for the truly unique and delightful wedding of Jess and Mark.
Vintage and handmade outfits, butcher's paper table cloths (complete with a rainbow of crayons for dinner time art), disco wedding rings, a very Aussie BBQ banquet and a giant sleepover ending helped make this day one of a kind – a beautiful tribute to Jess and Mark's open and creative personalities. I had so much fun capturing the natural happiness of these two and all those they hold dear… and what a colourful sight to photograph!
Congratulations guys, thanks so much for letting me be part of  your beautiful (and hilarious) celebration!
Special thanks to John Possemato for his assistance.
P.S As Jess and I both studied at the Centre for Creative Photography, I'd like to take this chance to plug the school. For those who live in South Australia and are looking for a facility to develope your photographic skills, and to be part of an open minded, caring and inspirational community, I highly recommend contacting Gavin Blake at the CCP. My time there was truly special, and I owe my career to all the incredible characters who call the place their second home. x
From Jess: As a photographer I was always going to be fussy about who would photograph my own wedding. Knowing Lucy through the Centre for Creative Photography, where we both studied, I was familiar with the quality of her work, eclectic style and easy going personality. Mark and I knew we wanted someone who would match our unique tastes – a relaxed wedding, in natural settings with a bit of a vintage flair. We worked out pretty quickly that Lucy was the photographer for us!
While the work ultimately speaks for itself, there are so many wonderful things to say about Lucy as a photographer. She has a relaxed but professional manner, knows when to give to direction or when to go with the flow and is highly organised yet creative and spontaneous.
We want to thank Lucy for her work and gorgeous results, our wedding photographs could not be better! We will forever remember our day through the beauty of the images she has made for us. Thank you, Lucy!!! XXX
♦ Featured on Etsy Weddings.