After studying at the Centre for Creative Photography in Adelaide, I now work in Melbourne and around the world using digital and analogue media for magazine editorials, musicians, performance artists, non-traditional weddings and personal projects.
My handsome fella Alastair Innes and I form the destination wedding duo She Takes Pictures He Makes Films.  He creates cinematic and engaging short films, perfectly complementing my photographic style. I've started directing some of our non-wedding film projects.
New York's Rangefinder Magazine recently named me one of the 30 Rising Stars of Wedding Photography, for which I feel incredibly honoured.
I've shot editorial features for Dumbo Feather, Frankie, Hello May, and Broadsheet, and had work featured in many print and online publications (please see below for a more detailed list). My street photography series Spain on Film was recently exhibited at The Centre for Creative Photography in Adelaide;  I hope to hold the show in Melbourne soon.
Combining travel with photography is my greatest thrill, so if you have something you'd like photographed in a distant land, I can be there (we can work together to make this affordable).
Please email me at hello@lucyspartalis.com with any project ideas, plans or dreams you have. I'd love to hear from you.
She Takes Pictures He Makes Films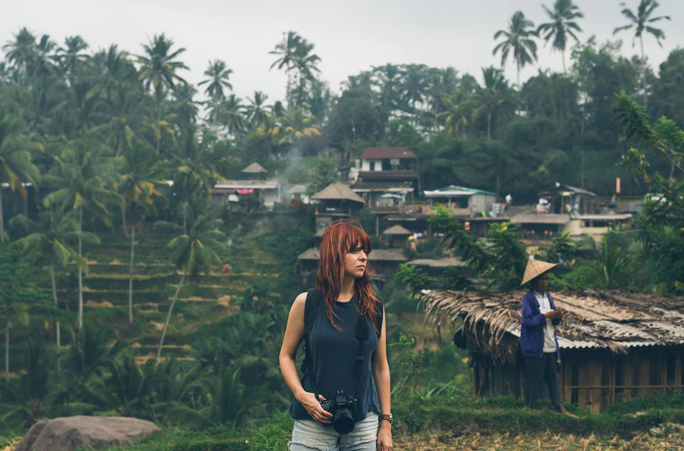 Photo by Alastair Innes
GUEST SPEAKING
2017 – Guest Speaker | Ted's Cameras Education Centre, Melbourne VIC
2016 – Guest Speaker | Camp Common Folk, Donnelly River WA

2015 – Guest Speaker | New Zealand Institute of Professional Photography's 'Infocus' Conference, Queenstown NZ
2015 – Guest Speaker | Centre for Creative Photography, Adelaide SA
.
AWARDS + ACHIEVMENTS
2018 – Finalist | International Wedding Photographer of the Year
2017 – Winner | Capture Magazine 'Annual'
2017 – First Place Winner | Rangefinder Magazine (USA) 'Annual'
2017 – Winner | Junebug Weddings (USA) | Best of the Best Destination Wedding Photos
2016 – Rangefinder Magazine (USA) '30 Rising Stars of Wedding Photography'
2016 – Winner | Capture Magazine 'Annual'
2016 – Winner | Rangefinder Magazine (USA) – Wedding Photography Competition
2016 – Finalist | Capture Magazine – Australia's Top Emerging Wedding Photographers
2016 – Junebug Weddings (USA) | World's Best Wedding Photographers
2015 – Runner Up | Capture Magazine – Australia's Top Emerging Wedding Photographers
2015 – 'Spain on Film' Solo Exhibition | The Light Gallery at The Centre for Creative Photography, Adelaide
2015 – Shortlisted | Byron Bay International Film Festival
2015 – Ted's Master | Ted's Camera Stores Ambassadors Program
2014 – Cover Feature | Hello May Magazine
2014 – Finalist | Capture Magazine – Australia's Top Emerging Wedding Photographers
2014 – Independent Photography Festival 'More Photo' Salon Exhibition | Strange Neighbour Gallery
2014 – 'Crow' Music Video selected for Melbourne Music Video Festival
2013 – Photographer of the Week | Milk Bar Magazine
2013 – Fearless Award | Fearless Photographers Awards 17
2009 – 'Picture This' Group Exhibition | Brunswick Street Gallery, Melbourne
2008 – 'One' Exhibition (with photographer James Stocks) | The Adelaide Fringe Festival
2008 – Diploma in Photoimaging | Centre for Creative Photography, Adelaide
2008 – Silver Award x 3  | South Australian Professional Photography Awards
2008 – Second Prize | 'Ghoti 10′ Group Exhibition | Centre for Creative Photography, Adelaide
2007 – 'Ghoti 9' Group Exhibition | Centre for Creative Photography, Adelaide
2007 – 'Crew Cut' Staff Exhibition | Centre for Creative Photography, Adelaide
.
SELECTED MAGAZINE + ONLINE FEATURES
The Centre for Creative Photography – Artist Interview
Frankie Magazine – Issue 46, 66, 67, 69
Milk Bar Magazine – Photographer of the Week
Dumbo Feather Magazine – Issue 38, 41, 47
Adelaide Review – Feature and Interview
Hello May Magazine – Issue 7 (Cover), Issue 9
Hello May Magazine – Real Wedding Special Issue 1 + 2
Hello May Blog – Interview with She Takes Pictures He Makes Films
Hello May  Blog 1  2  3  4  5  6  7  8  9  10  11  12  13  14  15  16  17  18  19  20

Atkins Photo Lab – Spain on Film Exhibition Feature
Rock 'n Roll Bride
Who The Hell
Etsy Real Weddings
White Magazine Issue 29
Viva Magazine (New Zealand Herald)
In Spaces Between – Spotlight Interview
A Practical Wedding
Polka Dot Bride
Bride To Be Magazine
Masters of Weddings Magazine
Style Me Pretty